Organ meat is a key part of a nose-to-tail ancestral diet. These meats were prized by early man for their nutrients, and were critical in our evolution.
Today, more people are eating organs like beef liver as the carnivore diet becomes more popular thanks to Dr. Paul Saladino (author of The Carnivore Code) and fitness influencer the Liver King.
Because organ meats are difficult to cook, many people take organ meat supplements instead to get all the benefits of these powerful ancestral foods, without having to worry about the strong taste of these meats.
Heart & Soil Supplements is Paul Saladino's own company, which makes organ meat supplement blends to help you get specific results. Before you buy, read our in-depth expert reviews of each Heart & Soil product to see if they're worth your money.
About Dr Paul Saladino's Supplements
The founder of Heart & Soil Supplements is Paul Saladino, M.D, who is known as Carnivore M.D and has a huge social media following. He wrote a best-selling book called The Carnivore Code and hosts a podcast called the Fundamental Health Podcast.
Dr. Paul Saladino is an influential figure and expert on the carnivore diet. He did his residency at Washington University and is a board-certified nutrition specialist and physician. He also studied medicine at the University of Arizona, specializing in nutritional biochemistry and integrative medicine.
He reportedly created Heart & Soil to help people return to eating the way our ancestors ate — nose to tail. The company's supplements complement the carnivore diet, a diet consisting solely of animal products.
All of Heart & Soil's supplements come from cattle raised on regenerative farms in New Zealand. The regenerative farming method focuses on eco-friendly farming practices and ecosystem recreation, and emphasizes respect for the animals and their environment.
Quick Heart and Soil Supplements Review
In short, we love Heart & Soil.
Its supplements are all fantastic quality and an effective way to get organ meats into your diet. The only downside is that they're expensive, and focused on specific goals rather than individual organs — unlike competing brand Ancestral Supplements.
For example, the main difference in Heart and Soil vs Ancestral Supplements is Ancestral Supplements offers organ-specific supplements (such as thyroid, liver, spleen), whereas Heart & Soil offers blends targeted at different goals (e.g, weight loss).
We've tried them all, so use our guide below to see which is best for you and your unique health, and whether it's worth your money.
Beef Organs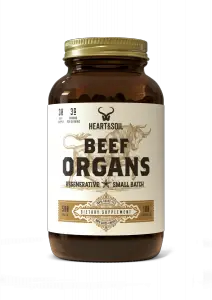 Heart & Soil's Beef Organs supplement contains grass-fed liver, heart, spleen, kidney, and pancreas — the most important items from the organ meats list.
All these organs contain nutrients such as copper, biotin, and CoQ10, which give you more energy (by increasing your metabolic rate), as well as boost your mood, and improve the quality of your skin, hair, and nails.
The supplement also includes the following nutrients:
Lipase, Proteases, and Amylase — these are enzymes that help your body break down the fat, proteins, and carbohydrates in food
Colipase, Trypsin, and Pancreatic Peptide — these support the activation of digestive enzymes and help you digest food more easily, and treat allergies
Riboflavin, Folate, B12, and Choline — these assist red blood cell formation, brain cell reproduction, and cardiovascular health
Vitamins A, D, E, K2 — these vitamins boost the body's immune system and increase bone strength
Our Verdict
We think this is the best supplement from Heart & Soil. It contains the most important items from the organ meats list and is an ideal multivitamin alternative for people on a carnivore diet.
Check it out on the Heart & Soil official website.
Firestarter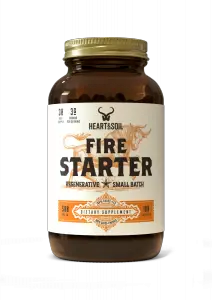 Firestarter is made from grass-fed finished suet (perinephric kidney fat), and contains :
Stearic Acid — activates mitochondrial fat-burning cells
Essential Fatty acids — powerful for healthy weight management
Vitamin E — helps maintain healthy eyes and skin, and boost the body's immune system
Vitamin K2 — contributes to bone metabolism and skin health
All these nutrients contribute to cardiovascular health, fat burning, and weight loss.
Our Verdict
We found this to be the ideal carnivore weight-loss supplement. Some people find that after a while they're not losing weight on the carnivore diet, so adding something like this into your regimen could make a real difference.
It's recommended for anyone who wants to feel more energetic, and improve their body composition and mitochondrial fat-burning capability.
Check it out on the Heart & Soil official website.
Bone Marrow & Liver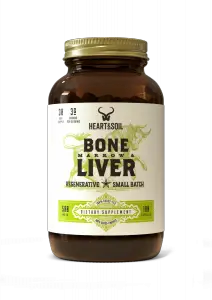 The Heart & Soil Bone Marrow & Liver supplement contains nutrients extracted from bone marrow, which is full of growth factors, stem cells, and peptides that help formulate red blood cells, bone cells, and cartilage cells.
This supplement contains the building blocks of a healthy body.
Our Verdict
Our experience was this supplement helped a little with weight loss, but really helped improve mood and gym recovery times. We expect anyone who buys it would see increased libido, weight loss, stronger bones, and improved tissue repair.
Check it out on the Heart & Soil official website.
Gut & Digestion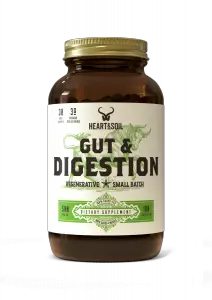 This supplement is a blend of grass-fed and finished beef pancreas, tripe, intestines, spleen, and liver. It's designed to aid in digestion, help heal leaky gut, and combat autoimmune issues.
These organs contain manganese, selenium, vitamin B12, and peptides that promote healthy digestion.
Our Verdict
We use this supplement when we're having digestive issues from new foods, or if we're traveling and going to a new environment.
If you eat something that makes you feel bloated, we suggest taking this supplement every time you eat it to help your body adapt — so you can eat it whenever you want. We also think it could help with carnivore diet constipation.
Check it out on the Heart & Soil official website.
Lifeblood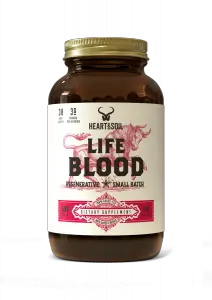 Lifeblood contains peptides and nutrients found in whole blood that is extracted from beef spleen and liver.
Grass-fed liver and spleen contain red and white blood cells and platelets, as well as heme iron, riboflavin, folate, B12, choline, and vitamins D, A, E, and K2. These help increase blood oxygen levels, thereby reducing injury recovery times, and improving your overall immunity against illness.
Our Verdict
Don't be put off by the fact that this contains blood. We found that improved iron stores and oxygen delivery helped our athletic performance. We therefore recommend this for carnivore athletes who want to improve their endurance.
Check it out on the Heart & Soil official website.
Georges St Pierre's Warrior
The Warrior supplement contains finished heart and liver. The grass-fed beef heart and liver contain vitamins and peptides like creatine, taurine, and L-carnitine that boost strength, recovery, and overall exercise performance.
Our Verdict
This is the perfect paleo workout supplement for weightlifting or CrossFit, or for anyone trying to gain muscle on the carnivore diet.
Check it out on the Heart & Soil official website.
Skin, Hair, and Nails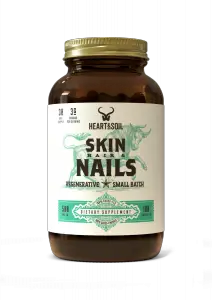 This supplement helps support healthy skin, hair, and nails due to its contents of cartilage, liver, and bone marrow.
The collagen, fat-soluble vitamins A & E, glycine, biotin, and other nutrients in this supplement promotes collagen production in the body, which gives you healthy-looking skin, nails, and hair.
Our Verdict
Collagen is well-known to make you look younger, and help with skin conditions. It's one of the reasons there are so many carnivore diet before and after skin pictures from people who found eating meat helped their complexion.
We noticed a clear benefit from taking this supplement. Collagen also reduces joint inflammation, so we felt younger and more energetic too.
Check it out on the Heart & Soil official website.
Whole Package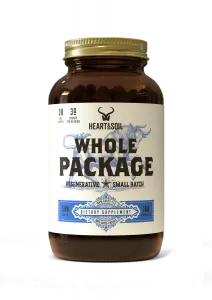 The men's Whole Package supplement contains finished testicles, whole blood extract, and liver. These contain vital nutrients such as:
Selenium — Beneficial for thyroid function, antioxidant defense, and general immune health
Essential Fatty Acids — These promote optimal sexual and reproductive health in men
Epidermal Growth Factor — Promotes fertility, healthy sperm, and sperm motility (movement)
Endothelin — This modulates hormone production, vascular health, and cell regeneration
Activin and Inhibin — Responsible for forming sex hormones, sex glands, sex organs, and reproductive cells
Our Verdict
The positive effects of this one were instantly noticeable. We experienced a boost in libido, weight-lifting performance, and a feeling of vitality stronger than any other organ meat supplement. We knew that beef liver boosts testosterone but the enzymes in bovine testicle took it to the next level.
We recommend it for any many who want natural way to feel decades younger.
Check it out on the Heart & Soil official website.
Histamine & Immune
The Histamine & Immune supplement helps people with immune system support that treats histamine intolerance and allergies.
Each capsule contains lung, thymus, spleen, liver, and beef kidney, which contain nutrients such as:
Thymosin beta-4 — An important peptide in stimulating pituitary hormones essential for reproductive function
Thymopoietin and Thymulin — Essential peptides used for immune cell programming and activation of the immune system
Bovine Beta-Defensins and Cathelicidins — Which have an antibiotic role in the body
Our Verdict
Many people have issues with dairy on the carnivore diet because of histamine issues. These problems usually clear up after a few weeks of eating only meat, and you can start introducing products like raw milk.
If you want to speed up the process, or don't have access to raw dairy, we suggest trying this supplement. One of the newer members of our team has issues with fermented food and cheese, and this supplement helped a lot.
Check it out on the Heart & Soil official website.
Bone Matrix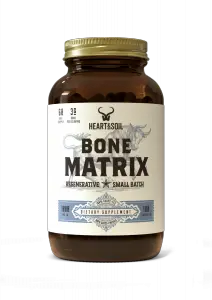 The Bone Matrix supplement is designed to help you achieve optimal mineral composition within your bones. It contains long bones, which provide calcium and phosphorus in a natural ratio of 2:1.
Our Verdict
By taking this supplement, you can expect stronger bones, bone healing and remodeling, and greater flexibility in your joints. We recommend it if you have joint problems (such as if you're on the carnivore diet to treat arthritis), or if you put a lot of physical stress on your body.
Check it out on the Heart & Soil official website.
Immunomilk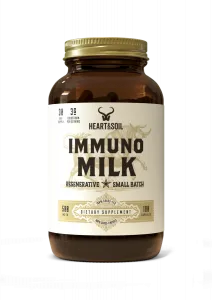 Immunomilk supports gut healing and exercise recovery, and offers improved immune system support. It's made from A1/A2 colostrum, which contains:
Immunoglobulins (IgA, IgG, IgM, IgD, IgE) — These are antibodies crucial in immune defense
Proline-rich Polypeptides (PRPs), like Colostrinin — Supports the thymus gland
Lactalbumins — Induce selective apoptosis (cell death) of cancer cells and are highly effective against various viruses
Insulin-like Growth Factor- I & II (IGF-I & -II) — These help build lean muscle, balance blood sugar levels, increase HDL, and help metabolize protein, carbs, and fat in food
Our Verdict
This is a good supplement to take if you're trying to heal your gut, such as if you're using the carnivore diet to treat SIBO. We also feel we experienced a slight increase in muscle mass.
Check it out on the Heart & Soil official website.
Her Package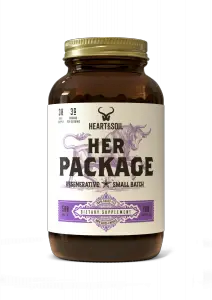 Heart & Soil's Her Package supplement gives female users hormonal balance support, and promises increased fertility, and help with menstrual dysfunction.
This supplement contains similar nutrients to the Whole Package supplement for men, but and is targeted towards female fertility and reproduction. It contains nutrients like:
Vascular Endothelial Growth Factor (VEGF) & Basic Fibroblast Growth Factor (bFGF) — Which supports healthy menstrual cycle
Epidermal growth factor — Which promotes healthy egg development and fertility
Our Verdict
We believe this is the ultimate supplement for women on the carnivore diet. Mnny female users report that it assists with cramps, PMS-related symptoms, and infertility.
Check it out on the Heart & Soil official website.
Mood, Memory, and Brain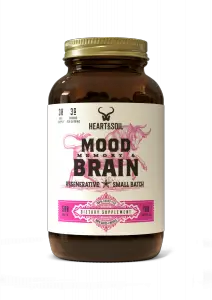 Mood, Memory, and Brain offers support for better learning, memory, focus, and mood.
It's amde from grass-fed and finished bone marrow, liver, and brain (including the hypothalamus, pineal gland, pituitary, and cortex), and contains nutrients such as:
Phosphatidylserine — A phospholipid that's found in the brain and nervous tissue, which is essential for stress management, working memory function, and optimal cognitive performance
DHA/EPA — Both are essential omega-3 fatty acids for brain function
Brain-derived neurotrophic factor (BDNF) -— A growth factor found in the brain that enhances nerve cell health, communication, synaptic transmission, and protection
Sphingolipids — A type of lipid (fat) found in the brain and nervous tissue that supports nerve cell performance and communication
Our Verdict
This supplement is designed to offer a decrease in chronic brain inflammation and promotion of healthy neural connections. In short, that means better cognitive performance, improved mood, and more resilience to stress.
We definitely felt sharp while taking it, and recommend it to anyone who wants to get the benefits of beef brain.
Check it out on the Heart & Soil official website.
Supplements Similar to Heart & Soil
If you're just starting out adding organ meats to your diet, we suggest trying a beef liver supplement first. It's the most common organ meat supplement, and there are numerous benefits of desiccated beef liver.
You can also find plenty of other carnivore diet supplements on Amazon.