Eating cheese on the carnivore diet is complicated. Even though cheese is 100% animal-based, some people have an allergy to dairy products and experience digestion or skin issues when they eat cheese.
If you don't have any allergies, then cheese is a great addition to your diet plan. In short — yes, you can eat cheese on the carnivore diet if you don't have a bad reaction to it.
Even if you do have an allergy to dairy, it's possible that you can introduce cheese slowly over time once the carnivore diet has healed your gut.
Health Benefits of Cheese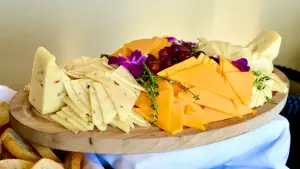 Cheese provides you with healthy fats along with fat-soluble vitamins. It helps you with type II diabetes and reduces your risk of diabetes, and it lowers your blood pressure as effectively as any antihypertension medicine. Because cheese enhances feelings of satiety and fullness, it reduces your desire to eat snacks and thereby helps you reduce your overall weight.
The dehydroergosterol and oleamide found in Camembert cheese reduce inflammation in the areas of your brain that are associated with dementia and Alzheimer's. This means cheese is neuroprotective and keeps you safe from neurodegenerative disorders. The vitamin K2 in cheese is cardioprotective in nature and, therefore, eating cheese supports your heart health as well.
Cheese is a great source of CLA. Cheddar cheese that is sourced from 100% grass-fed cattle contains twice the amount of CLA as that in conventional cheddar. CLA inhibits the growth of cancer in the liver, breast, prostate, and stomach.
Cheese also has protein and calcium that are great for building muscle and strengthening your bones.
Why You Should Avoid Cheese on the Carnivore Diet
Cheese contains lactose. Lactose-intolerant people don't have the enzyme to break down lactose, so if you are lactose-intolerant and eat cheese, you will experience digestive issues such as bloating, diarrhea, and gas.
Some people are allergic to proteins present in the milk such as casein. Therefore, those who are allergic to milk can't eat cheese as well. If you have a milk allergy, don't consume cheese or other dairy products when you are starting the carnivore diet.
However, because the carnivore diet is good for inflammation, you may find that after a few weeks your body has healed enough to tolerate small amounts of dairy. Try eating small amounts of cheese at first, and over time it's likely that you'll be able to consume dairy normally.
Carnivore Alternatives to Cheese
If you don't want to use cheese or have run out of cheese while cooking a carnivore meal, you replace it with butter, sour cream, or yogurt. However, if you are lactose intolerant or have a milk allergy, then you can't use any dairy product as a substitute for cheese.
Either way, you definitely can't use processed alternatives such as margarine or vegan cheeses that are full of toxic seed oils.
Key Takeaways
Cheese is a carnivore-friendly source of fats and nutrients, and is one of the best carnivore diet snacks.
However, if you can't eat cheese due to health issues, start with a strict elimination diet of only water, salt, and meat (also known as the lion diet) and then after one month, add some cheese to your meals and see how your body reacts to it.