The Perfect Health Diet is a way of eating and the name of a book written by scientists Paul and Shou-Ching Jaminet that uses the latest scientific research to create the supposed ideal diet.
In essence, the Perfect Health Diet a high-carb version of the paleo diet, based on recent research that our ancestors consumed more starch than we previously realized.
In this article, we offer a free and simple breakdown of the Perfect Health Diet, and why you should follow it.
What Is the Perfect Health Diet?
The Perfect Health Diet is similar to the paleo diet and suggests we should eat meat, fish, eggs, fruit, and vegetables as the majority of our foods, but places additional emphasis on the inclusion of "safe starches" such as rice, sweet potatoes, and taro.
This works out to be ¾ plant foods and ¼ animal foods, which makes it similar to the ancestral diet observed in many traditional cultures.
If you want to follow the diet, the Jaminets suggest you eat approximately 600 carb calories a day (mostly from starches), 300 protein calories, and the rest from fat.
Perfect Health Diet Benefits
There are numerous benefits of following the Perfect Health diet:
Weight Loss
Rather than the basic calories in versus calories out approach that most dieting takes, the Jaminets argue a more sophisticated model of nutrient hunger being the key to weight loss.
That is, a nourishing, balanced diet that provides ample nutrients will eliminate hunger and cravings, and this allows us to naturally and safely eat at minimal caloric intake.
By giving our body what it needs to function optimally, we don't crave the extra calories, and will move towards optimal bodily composition over the long term, because we're using what we eat as fuel. This is less dangerous than drastically cutting calories for the short term.
Protection From Cancer (and Other Diseases)
The Perfect Health Diet is in many ways an anti-cancer diet because it optimizes immune function and improves cellular health.
The Jaminets recommend following their usual diet plan, but perhaps with fewer pleasure foods (such as berries and chocolate), and with a focus on occasional intermittent fasting. Fasting promotes autophagy, which is the body's way of cleaning out damaged cells.
Muscle Gain
The Perfect health Diet works well for anyone interested in bodybuilding and for athletes because the macros match those for performance and gaining muscle.
Indeed, with the inclusion of carbs from starches, the Perfect health Diet is better for gains than building muscle on the carnivore diet.
The Jaminets suggest that the key to natural muscle gain is to eat a calorie surplus on the days you lift weights, and eat fewer calories on rest days.
Perfect Health Diet Meal Plan & Food List
Here's the food chart that the authors the Jaminets suggest we use to create a plate of food: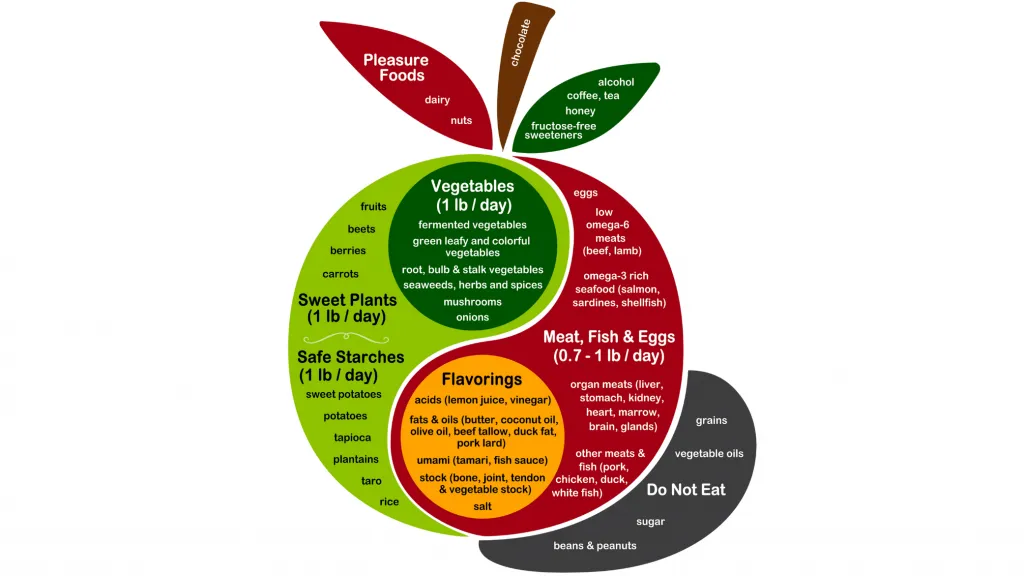 Here are the key foods that should make up the majority of your diet:
Meat, fish, and eggs

Eggs
Low omega-6 meats (beef, lamb)
Omega-3 rich seafood (salmon, sardines, shellfish)
Organ meats (liver, somach, kidney, heart, marrow, brain, glands)
Other meats and fish (pork, chicken, duck, white fish)

Safe starches

Sweet potatoes
Potatoes
Tapioca
Plantains
Taro
Rice

Sweet plants

Fruits
Carrots
Beets
Berries

Vegetables

Fermented vegetables
Green, leafy, and colorful vegetables
Root, bulb, and stalk vegetables
Seaweed, herbs, and spices
Mushroom and onions

Flavorings

Acids (lemon juice, vinegar)
Fats and oils (butter, coconut oil, olive oil, beef tallow, duck fat, pork lard)
Umami (tamari, fish sauce)
Stock (bone, joint, tendon, and vegetable stock)
Salt

Pleasure foods:

Dairy
Nuits
Chocolate
Coffee and tea
Frutos-free sweeteners
Alcohol (in moderation)
But you should not eat:
Grains
Vegetable oils
Sugar
Beans and peanuts
Perfect Health Diet Sample Menu
There's no perfect health Diet cookbook, but the official site does feature some recipes. Here are three of our favorite Perfect Health Diet recipes:
Here's an example daily meal plan:
Breakfast:
Banana and two boiled eggs, or yoghurt and berries
Lunch:
Dinner:
Beef stew, fish curry, or chicken wings
As you can see, it's easy to adapt the ancestral principles of the Perfect Health Diet to the sort of meal plan that most people are used to eating.
Perfect Health Diet Reviews & Criticism
We're fans of the Perfect Health Diet, because it's easy to follow and is based on scientific research. For the average person transitioning from a standard American diet of junk food, this diet is a healthful way of eating aligned with the way humans are designed to eat.
However, it's worth noting that the book was published in 2013, and a lot of new discoveries in nutrition have occurred since then. For example, the Harvard carnivore diet study and others show the benefits of eating mostly animal products.
The Perfect Health Diet is based on science, but the whole point of the scientific method is to continually learn new things by disproving existing hypotheses. In short, the Perfect Health Diet is exactly that — the Perfect Health Diet at the time of publication. We are and continue to be learning more about nutrition through the latest research.
Plus, the Perfect Health Diet doesn't take seasonality into account — for example, eating more fruits in summer and adopting a pro-metabolic approach, and then mostly fat in winter and spending more time in ketosis.
Nonethelss, the Perfect Health Diet stands up to scrutiny, and the average person could radically improve their health by following it. We certainly don't intend to debunk the diet.
Perfect Health Diet Supplements
The Perfect health Diet is a supplement-heavy diet to ensure you get every single micronutrient we know that the body needs.
Here's a full list of every supplement the Jaminets recommend for optimal health:
Daily Supplements
Take these supplements every day.
Vitamin D3 — up to 4,000 IU/day
Vitamin K2 — 100 mcg MK-7
Magnesium — 200 mg chelate (e.g. glycinate) or citrate
Iodine — 225 mcg a day
Vitamin C — 500 mg to 1 g per day (more if sick or stressed)
Vitamin B5 (pantothenic acid) — 500 mg per day
Choline — around 420 mg
Copper — 2 mg a day
Calcium — 400 mg a day
If you eat organ meat and eggs, you don't need the copper, vitamin A, or choline. If you eat bone broth, you don't need the calcium.
Weekly Supplements
Take these supplements once a week:
Vitamin A — 50,000 IU/week
B1 (thiamin) — 50 to 100 mg weekly
B2 (riboflavin) — 100 mg per week
B6 — 50 mg to 100 mg per week
Biotin — 5 mg per week
B12 — 500 mcg to 1 mg once per week
Zinc —  50 mg per week
Boron — 3 mg dose once to three times per week
You could also take a B-50 complex to substitute all the individual B vitamin supplements.
Optional Supplements
These supplements are recommended and can be helpful for many people with health conditions:
Lithium — 5 to 10 mg per week
Chromium —  200 to 400 mcg per week
Silicon — 5 mg to 25 mg daily
Molybdenum — 150 mcg per week
Taurine — 500 mg to 5000 mg per week (more if you have an infection)
Selenium — 0 or 200 mcg per week
N-acetylcysteine — 500 mg or more if suffering from infections
Glycine — 10 g per day if you don't eat bone broth etc
Creatine — 5 g per day to build muscle
Melatonin — 1 mg sublingually just before bedtime to help sleep
Taking a probiotic supplement is also recommended.