If you're following an ancestral diet like carnivore, keto, or paleo, you likely know the benefits of consuming organ meats and eating "nose to tail."
However, the truth is that organ meats don't taste good to a lot of people and are difficult to cook.
Brands like Ancestral Supplements offer organ meats in capsule form, so you can reportedly get all the benefits of a nose-to-tail diet, without dealing with the taste or texture of fresh organ meats.
In this article, we review all the brand's major products, and let you know whether they're worth your money.
What are Ancestral Supplements?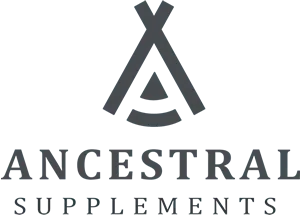 Ancestral Supplements is a US supplement brand owned by the Liver King that sells desiccated organ meat supplements made from grass-fed cows. The supplements are designed to offer the benefits of eating "nose to tail" without the need to cook or prepare offal.
The product line is based on the philosophy that "like supports like" and that consuming the organ of a healthy animal heals and strengthens the corresponding organ in the person who eats it.
Whether or not you believe this claim, the supplements offer an excellent profile of vitamins and nutrients. Although taking a supplement will never be as good as eating the real thing, the products are great for when you're traveling and when you can't get a specific organ meat at the store — or if you really dislike fresh organ meat.
Benefits of Eating Organ Meat
The whole list of organ meats available from an animal are natural multivitamins, and are more nutritious than muscle meats. They contain iron, zinc, and B-vitamins, and were a key part of our diet for most of human history before we adopted modern eating habits.
The following are some of the key benefits of eating organ meat:
More Energy
Iron deficiency is one of the primary causes of fatigue and lack of energy, and affects over 10 million Americans.
Organ meats are full of heme iron, which helps the body make the protein hemoglobin and carry oxygen around the body. Therefore, they help give you more energy,
Immune System Boost
A strong immune system is a key part of preventing illnesses. One of the best ways to improve your immune system is to consume the recommended amount of zinc.
Organ meats such as liver, kidney, and heart are all good sources of zinc.
Reduced Risk of Heart Disease and Cancer
Organ meats contain riboflavin, a B vitamin that studies show reduces the risk of cancer.
These meats also contain large amounts of B12 and folic acid, which work together to help moderate homocysteine levels in the blood, and reduce the risk of cardiovascular disease.
Ancestral Supplements Product Reviews
We've personally tried every product from Ancestral Supplements and highly recommend them. The following reviews explain our experience of taking each supplement, and the benefits you can expect.
Ancestral Supplements Thyroid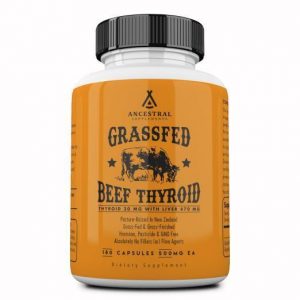 The thyroid gland regulates our hormones to ensure cells in our bodies function normally.
Ancestral Supplements Thyroid contains 180 capsules of freeze-dried desiccated beef thyroid mixed with beef liver, which contain Vitamin A, B12, choline, folate, peptides, proteins, essential enzymes, and heme iron.
Taking this supplement can help increase energy, increase metabolic rate, and enhance your thyroid production. We recommend it for anyone with thyroid issues.
We noticed a clear improvement in energy throughout the day, which was correlated with a feeling of positivity (i.e., no midday slumps).
Key benefit: Improved energy levels and mood
Ancestral Supplements Desiccated Beef Liver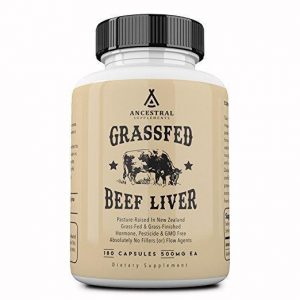 Ancestral Supplements beef liver is high in protein, grass-fed, and contains 100% your daily value of Vitamin A, 230% DV of Vitamin B12, and 120mg of choline per serving.
The benefits of desiccated beef liver include increased energy, increased immune function, and improved collagen production. We also noticed an increase in sex drive, as well as improved hair, skin, and nails.
In short, nothing beats beef liver — and this is one of the most powerful beef liver supplements we've tried. You should take this instead of a multivitamin and see how much better you feel.
Key benefit: Higher energy, libido, and strength
Ancestral Supplements Bone Marrow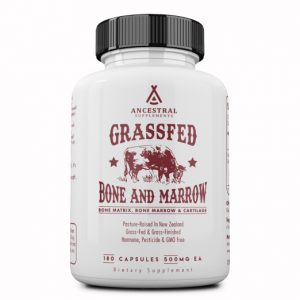 Ancestral Supplements Grass Fed Bone and Marrow is a true superfood.
Many indigenous and traditional cultures obtained the majority of their fat-soluble vitamins and minerals from consuming bone marrow.
Bone marrow is rich in cartilage and collagen, which help to improve the strength of a person's own bones, skin, and teeth. It also includes glucosamine, a key compound that reduces joint inflammation and helps to prevent osteoarthritis.
When taking this supplement, we noticed an increase in flexibility and mobility after working out.
Key benefit: Reduced joint pain and stronger bones
Ancestral Supplements Kidney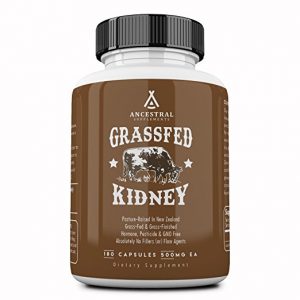 Ancestral Supplements Kidney contains 500MG of grass-fed beef kidney, which is high in diamine oxidase (DAO). DAO helps break down excess histamine in your body, helping the symptoms of common allergies.
Consuming kidney also supports urinary health, detoxifies your body, and protects against gout.
We recommend this supplement for anyone with issues with dairy. It helped one of our team introduce more milk into their diet without having skin flare-ups.
Key benefit: Detox your body and soothe allergies
Ancestral Supplements Adrenal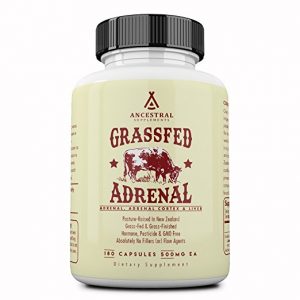 The adrenal glands assist the kidneys in their critical tasks, making Ancestral Supplements Adrenal capsules a great complement to the brand's kidney supplement.
This product helps to improve adrenal gland health, and thereby boost your energy and mood by supporting how your body produces stress hormones like cortisol.
It's not a miracle cure for the stresses of modern life, but we definitely felt an increased sense of calm in the month we tried this product.
Key benefit: Less stress
Ancestral Supplements Brain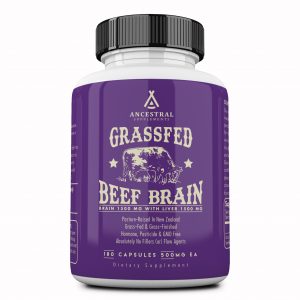 Grass-fed brain is one of Ancestral Supplements' best-selling products. Each capsule contains 250mg beef brain and 250mg beef liver.
Consuming these capsules offers many fantastic cerebral and nervous system benefits. For example, the phosphatidylserine they contain has been shown to improve behavior and cognition in elderly people with cognitive decline.
Ancestral Supplements' safety controls ensure that this beef brain supplement is 100% safe.
We noticed increased focus when we took this supplement during a period of heavy work.
Key benefit: Improved memory and mood
Ancestral Supplements Intestines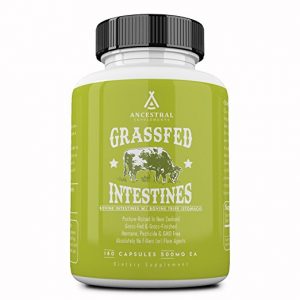 Ancestral Supplements Intestines contain 250mg of bovine intestines and 250mg of bovine tripe, which is part of the cow's stomach.
These parts of the animals were once regular parts of our ancestors' diets and their concentrated amounts of proteins, probiotics, connective tissue, help improve the immune system and support overall gut and digestive help.
We added this to our regular gut health protocol and used in combination with fermented foods.
Key benefit: Improved gut health
Other Ancestral Supplements
While the above are the most popular products sold by Ancestral Supplements, the brand also sells the following supplements, among others:
Gallbladder with Ox Bile & Liver: helps nourish and support the biliary tract and overall digestive health
Blood Vitality: helps nourish and support the blood, liver, and spleen due to inclusion of bio-identical Vitamin D, Vitamin B12, and bio-available heme Iron
Beef Pancreas: high in proteolytic enzymes, and may help and strengthen one's own pancreatic functions, particularly in the areas of supporting digestive and blood sugar health
Quality, Price, and Effectiveness
Ancestral Supplements are not cheap. However, the price is appropriate for their high-quality ingredients, and the nutritional value they provide.
Unlike other supplement brands, Ancestral Supplements uses ingredients from the best possible sources. The organ meat is taken from pasture-raised New Zealand beef that is certified hormone, pesticide, and GMO-free.
It's rare to find that level of quality or back-to-the-source ingredients in the average grocery store. This commitment to quality is why Ancestral Supplements products are so effective, and why many in the ancestral health community rely on them.
Our Verdict
If you don't want to cook and eat organ meats, Ancestral Supplements are a great alternative, and one of the best organ meat supplement options available. However, you should also consider Heart & Soil Supplements.
When it comes to Ancestral Supplements vs Heart & Soil, Ancestral Supplements offers more products for targeted support, whereas Heart & Soil is better when it comes to organ meat blends.
Ancestral Supplements FAQ
Here are some common questions and answers about Ancestral Supplements.
What Ancestral Supplements Should I Take?
What Ancestral Supplements you should take depends on your individual health concerns.
For example, if you're looking for something general to support your immune system, take the Grass Fed Beef Liver capsules. If you have a more specific issue, such as memory retention and fatigue, take the Grass-Fed Beef Brain capsules because they offer more targeted support.
Are Ancestral Supplements Safe?
Yes, Ancestral Supplements are safe.
When consuming organ meat, the only risk to your health is poor-quality meat that has been exposed to toxins and pesticides. Ancestral Supplements source only high-quality ingredients, so they are perfectly safe to consume.
Organ meats are rich in cholesterol, but this has little effect on your total blood cholesterol levels.
Are Organ Meat Supplements Good for You?
Yes, organ meat supplements are good for you.
Our ancestors ate organ meats for millennia to help them survive and thrive in the harshest environments. Many cultures around the world today still consume organ meats, so eating organ meats supplements is just a convenient way to get the same nutrients in your diet.
What Ancestral Supplements Help Blood Pressure?
All Ancestral Supplements could help reduce blood pressure because of their high levels of B vitamins.
The supplements that help blood pressure most are Grass Fed Beef Heart and Grass Fed Beef Liver, due to their sourced organs containing the highest amounts of CoQ10, which is an excellent blood pressure controller.
Where Do I Purchase Ancestral Supplements?
You can purchase Ancestral Supplements on the Ancestral Supplements official website or through a retailer like Amazon.