Ancestral Supplements and Heart & Soil Supplements are the two biggest names in organ meat supplements.
Ancestral Supplements was founded by Brian Johnson, aka the Liver King, and Heart & Soil was started by Dr. Paul Saladino, aka Carnivore MD. Both brands use regenerative farming, and all of their products are GMO, pesticide, hormone, and herbicide-free from grass-fed and organic cattle.
The main difference between Ancestral Supplements and Heart and Soil is the type of supplements they produce: Ancestral Supplements makes individual organ supplements (e.g., kidney, liver etc) and Heart & Soil makes blends that target use cases (lose weight etc).
This article will explain which brand is best for you based on your diet and lifestyle.
Ingredients & Purpose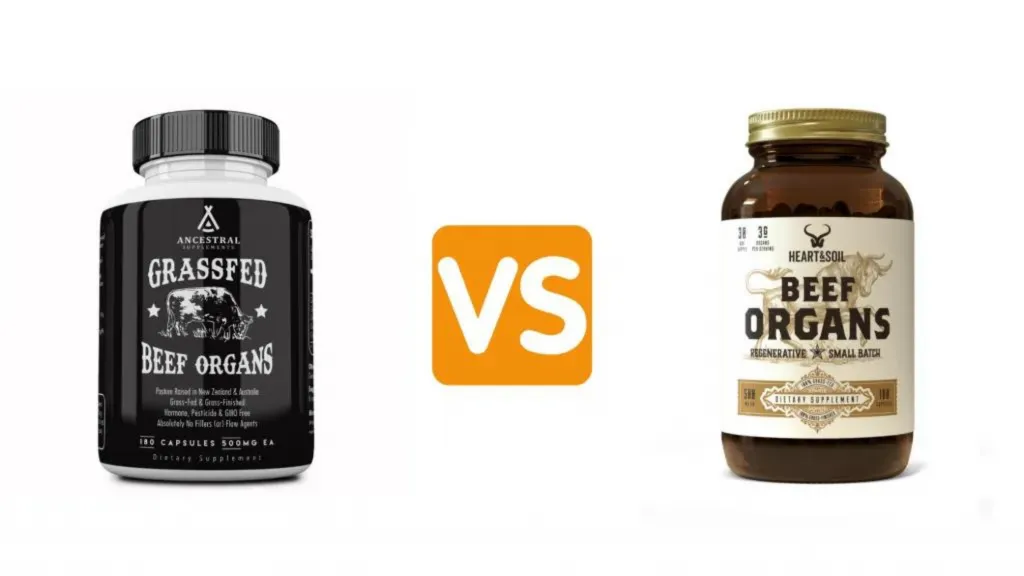 Ancestral Supplements focuses on creating organ-specific supplements. The company's aim is to provide users with a single organ supplement for whatever issue they're facing.
This is based on the ancestral wisdom that like treats like — that is, you can treat health issues by consuming the corresponding organ from a healthy animal. For example, if you have thyroid issues, you can supplement with Ancestral Supplements Thyroid, which contains bovine thyroid (and some liver).
Heart & Soil Supplements, on the other hand, creates supplement blends that target specific results users want to see. For example, Heart and Soil's Gut & Digestion supplement focuses on digestive issues, with each capsule containing beef tripe, intestines, liver, spleen, and pancreas.
Price
A critical difference between these two supplement creators is the price of the supplements.
Although both companies use similar ingredients, Ancestral Supplements is cheaper. This is likely due to the fact that the ingredients for each product are less complicated. However, the price difference is only a few dollars for each product.
If you want to consume a selection of organ meat without buying a lot of supplements, Heart & Soil will be cheaper, because you get a mix in each product.
However, Ancestral Supplements products are available on Amazon, which makes buying them more convenient.
Heart and Soil vs Ancestral Supplements: Which Brand is the Winner?
The best brand for most people is Heart and Soil. Its supplements are ideal for anyone following a carnivore diet, or who wants to get vitamins and nutrients from real organ meat instead of a generic multivitamin.
There's a Heart & Soil blend for every use case, including losing weight, optimizing testosterone, and building strength. Plus, Heart and Soil is the cheaper option of the two brands.
However, people more experienced with the ancestral diet will likely prefer Ancestral Supplements, because it allows them to supplement specific organs that they are missing from their diet at that time, such as if they're traveling or can't buy the meat fresh at the store.
We've used both brands, and we strongly recommend their products for anyone living an ancestral lifestyle. Of course, no supplement will ever be as good as eating the whole list of organ meats fresh or raw from grass-fed cattle.