Butter-filled scrumptious scrambled eggs or a cup full of bone broth with crunchy bacon — you can eat a variety of nutrient-dense foods as breakfast on a carnivore diet without compromising on taste or pleasure.
There are different ways to approach breakfast when eating only animal products. Some people prefer intermittent fasting on the carnivore diet and skip breakfast, while there are many who prefer to have breakfast and lunch but skip dinner. Others prefer to just eat three or four full meals a day.
Dr Paul Saladino, the author of The Carnivore Code, usually eats 2 to 2.5 meals per day within a 10 to 11-hour eating window. Sometimes he aims for an 8 to 9 hour eating window, as he states most humans can't go much lower than that long term without negative hormonal consequences.
Whichever eating window you prefer, here are some delicious carnivore breakfast recipes and ideas that fit the traditional idea of a breakfast meal, but consist only of carnivore-friendly foods.
Carnivore Quiche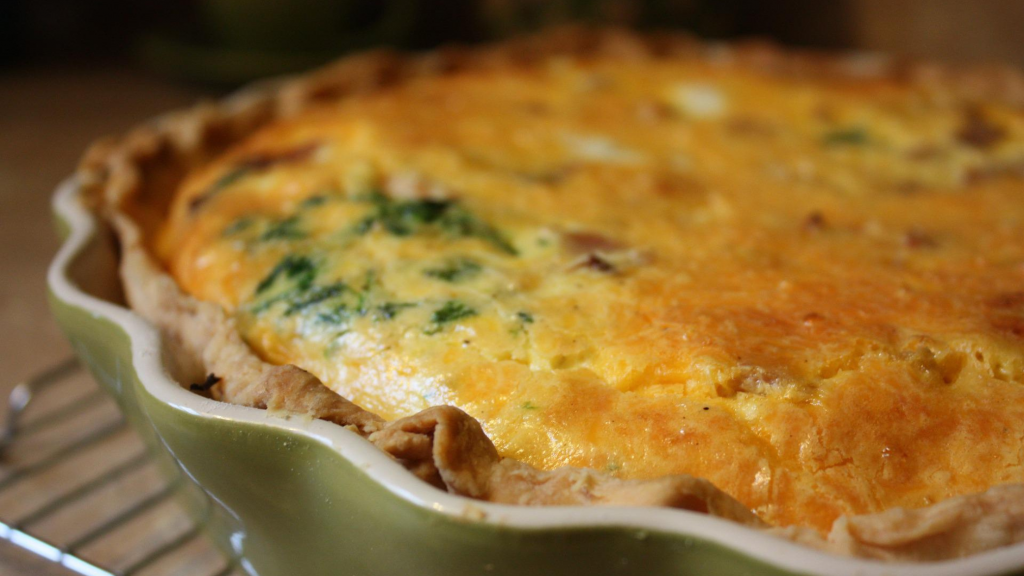 This carnivore quiche has a pork-based crust and is loaded with eggs, bacon, raw cheese, and heavy cream for a nutritious, delicious, carnivore-friendly breakfast.
Cheese is not only full of vitamins and calcium, but will also help you with your gut health. Meanwhile, eggs are an excellent source of protein that helps you build muscle mass.
Things You Will Need
Blender/Food Processor
Pie Pan
Vegetable Grater
Cooking Pan
Hand Mixer
Mixing Bowl
Ingredients
Pork rinds — 50 g
Ground Pork — 100 g
Bacon — 100 g
Eggs — 4
Heavy Cream — 20 g
Ghee/Butter — 20 g
Raw Cheese — 20 g
Sea Salt — To taste
Instructions
Preheat your oven to 375 F.
Put the pork rinds in the food processor and grind them to a fine powder.
Melt the butter on the stove.
Mix the melted ghee, raw ground pork, and eggs in the blender until a smooth paste is formed.
Add this paste to a mixing bowl. Add the powdered pork rind and salt and form a thick, dense dough.
Put this mixture in a pie pan.
Push the dough in the center outwards and thin out the bottom to form the crust. You can make curled edges by using the edge of the pie pan.
Bake the crust in the oven for 20 minutes while you prepare the filling.
Chop thin slivers of bacon and cook them at medium heat.
Transfer them to a plate and let them cool.
Whip the heavy cream, eggs, and salt in the mixing bowl for 1 minute.
Using the vegetable grater, shred the cheese.
Add the bacon and shredded cheese to the egg-heavy cream mixture.
Pour this filling into the crust.
Bake for 20 minutes at 375 F. the top should be crisp and golden brown in color.
Allow the quiche to cool for 10 minutes. Serve and enjoy!
Carnivore Waffles
Eating these carnivore waffles is a healthy way to start your day. They're a high-protein, low-carb breakfast option that keeps you full for a long time, and gives you the energy to go through a long day at work or home.
The eggs are full of choline that keeps you safe from cardiovascular disease and improves your cognitive abilities. The breakfast sausage provides you with protein that not only increases your muscle mass but is good for your bones as well.
Things You Will Need
Waffle Iron
Oven
Plate
Paper Towels
Whisking tool
Bowl
Ingredients
Eggs — 2
Raw breakfast Sausage — ¼ cup
Butter/Ghee — 20 g
Instructions
Take a small bowl.
Crack the two eggs in the bowl.
Whisk the eggs thoroughly until they start to foam.
Add in the chopped sausages and whisk a bit more.
Apply a thin layer of butter to the waffle iron
Heat the waffle iron up.
Pour the contents into the waffle iron and close it.
Let it cook for almost 3 to 4 minutes.
Take a plate and place some paper towels on it.
Take the waffles out and place them on top of the paper towels.
Set your oven to 200 F.
Place the waffles inside the oven for 10 minutes. This will keep the waffles from becoming soggy.
Your scrumptious carnivore waffles are ready!
Carnivore Breakfast Pizza
With this recipe, you can not only eat a healthy, nutritious breakfast, but you can also satisfy your pizza cravings. It is soft on the inside and crunchy on the outside.
The nutrient-dense eggs — selenium, choline, and vitamin B12 — will keep you full all day long, while the ground chicken will promote healthier bones and will help in building stronger muscles.
Things You Will Need
Food Processor/Blender
Parchment Paper
Pizza Stone
Ingredients
Eggs — 4
Raw Ground Chicken — 200 g
Pork Rinds — 50 g
Butter/Ghee — 50 g
Sea Salt — As per taste
Cheese — 50 g
Cooked Meat — 100 g
Instructions
Preheat the oven to 375 F.
Put the carnivore diet pork rinds inside the food processor. Crush into a fine powder and set aside.
Melt some ghee on the stove.
Mix the melted ghee, eggs, and ground chicken in the blender until you get a smooth paste.
Add this paste to a mixing bowl and mix the powdered pork rinds and sea salt as well. Fold it all in until you get a thick, dense dough.
Take some parchment paper and transfer the dough on top of it.
Form the dough into a shape if you prefer. You can do the thin crust, flatbread pizzas, or thick crust.
Once you have formed the crust, it is time to bake it. Bake it for 30 minutes at 375 F.
Top the crust carnivore pizza toppings (cheese, cooked meat, etc.)
You can put the crust back in the oven for 10 minutes with the toppings to melt the cheese. Enjoy!
Carnivore Sandwich Bread
Soft on the inside, and crunchy on the outside, this delicious beef-based carnivore sandwich "bread" is a great breakfast option. You can either toast the bread and have it on its own or make a delicious sandwich out of it!
Don't worry, it's not actually bread — it's similar to meatloaf and made entirely with beef.
Things You Will Need
Bread Pan
Hand Mixer
Blender/Food processor
Ingredients
Eggs — 4
Ghee/Butter — 50 g
Raw Ground Beef — 200 g
Sea Salt — To taste
Instructions
Take a mixing bowl and crack the eggs in it.
Separate the egg yolks from the egg whites.
Using the hand mixer, beat the egg whites until you get a frothy mixture with soft peaks.
Melt the ghee.
In the blender, mix the ghee, egg yolks, raw ground beef, and sea salt.
Add this mixture to the egg whites and blend thoroughly.
Pour this batter into the bread pan.
Bake it in the oven for 100 minutes at 375 F.
If the texture is grainy and consistent throughout, it means the loaf is done. If the loaf has slimy patches in it that look like eggs, give it another 10 minutes.
Once done, remove it from the oven and let it cool for 10 minutes.
Slice the loaf into the size you prefer, toast it slightly in the pan, and enjoy a nutritious, delicious breakfast!
Other Carnivore Breakfast Ideas
On the carnivore diet, any food can be breakfast food.
If you're eating a strict carnivore or lion diet with only red meat, then there's nothing stopping you from having that as soon as you wake up if you're hungry. Although it's a restrictive diet in terms of the foods you can eat, there's no limit to when you can eat them. Many carnivores just reheat their leftovers from dinner as their breakfast meal.
You might also find that your favorite breakfast foods are already carnivore friendly. For example, the classic bacon and eggs. If you're eating an ancestral diet or carnivore diet with fruit, you can have yogurt and fruit.
For the biohackers among you, carnivore bulletproof coffee is the ultimate brain-charging meal if you're not sensitive to caffeine. Or, be like the Liver King and just eat a plate of beef liver.
Remember, the key is to listen to your body and eat when you're hungry. That might mean making one of these delicious recipes — or skipping breakfast entirely.