Salmon is one of the most easily digestible and nutritious foods on the planet. Loaded with essential fatty acids, proteins, and vitamins, it has been a staple in the diets of many traditional cultures.
Humans have been eating salmon for more than 30,000 years, meaning that it was among the first animal proteins ever eaten by our ancestors. They used to cook salmon over an open flame, so we've adopted the same technique and are going to grill our salmon to give it an authentic ancestral flavor.
This carnivore diet salmon recipe has no carbs, no sugar, no gluten, and no vegetables at all, but it has many complex flavors that make it the perfect carnivore lunch or dinner.
Ingredients
1 salmon filet (large and not frozen)
4-6 tsp of garlic powder
Salt (to taste)
Black pepper (to taste)
1 tbsp. butter
Directions
Preheat the grill and season your salmon with garlic powder, pepper, and salt.
Take foil and place salmon fillet over it. Melt the butter and spread it over the top of the fillet.
Place the salmon with foil over the grill and let it cook for 20–25 minutes.
Your carnivore salmon is read. Serve immediately and enjoy!
To get additional protein and fat, try serving with carnivore fat bombs, and dipping both in homemade guacamole. Avocado on the carnivore diet is often fine if you can tolerate it.
Carnivore Salmon Recipe Tips & Tricks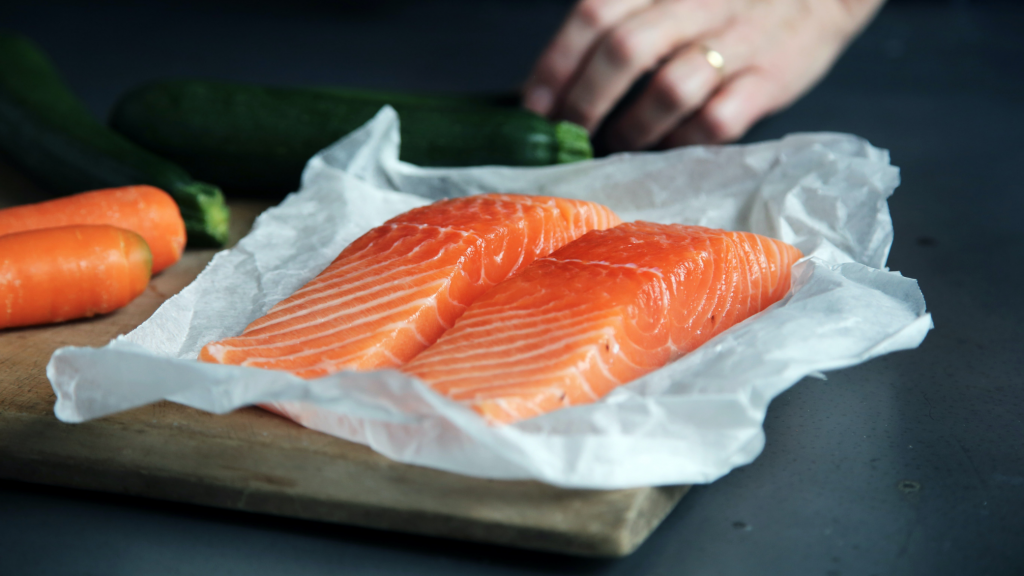 You can replace the salmon with other types of fish, such as tuna or white fish.
Direct exposure to the grill can burn the salmon, which is why we use foil pepper. You can skip this step though for a crispier coating.
This recipe is for one person. If you want to serve more people, increase the number of salmon fillets, and grill in batches.
Frequently Asked Questions
Can I bake the Salmon?
If you don't have a grill, you can bake your salmon in the oven, but it doesn't give you the same classical smoky, flavourful taste.
For baking, preheat the oven to 200°C and bake for 5–7 minutes depending on the thickness of the salmon. Then, turn on the broil option on the oven and cook until a crispy crust appears (4–6 minutes).
You can even cook your salmon in a skillet. A cast-iron skillet is the best option to cook salmon because it retains heat well and allows you to cook the fish to perfection.
How Should I Choose Salmon for This Recipe?
When buying salmon, make sure it smells fresh. Fresh fish should smell like the ocean and be slightly firm to the touch.
If you want to save a little money, you can buy frozen salmon, but it's a good idea to look for a reputable brand that's wild-caught and doesn't contain any additives.
Do I Grill with the Skin on or off?
The debate over whether to grill salmon with or without the skin on has been going on for years. Some people say that the skin helps to protect the fish from drying out and provides a nice flavor. Others claim that the skin is too fatty and should be removed before grilling.
The answer is simple: if you're grilling, leave the skin on. If you're pan-searing, then take the skin off.
Skin holds the meat together and keeps it moist. So if you grill a salmon steak with the skin on, it sticks to the grill, but it won't tear. It will turn a little brown, but the meat will stay moist.